In such trying times in our world I think that we all have a lot of questions. In this edition of Tooth Talk, we'd like to help our local communities in the Downingtown, Wyomissing, and Lancaster areas by sharing information about what dental offices are doing and what you can do to care for your own dental health. Many have postponed dental appointments and some with possible dental emergencies don't know what to do and may feel left in the dark. 
In this article, we will give you information about what you can do at home to prevent dental issues and also some information about what we can do as a dental community to help our patients. One first tip is to try to keep SMILING! Just smiling alone can increase endorphins in our bodies and give us a feeling of calm and comfort. Don't forget to smile and try to find happiness sometimes in the smallest of places.
Additional Sterilization Efforts
First and foremost, we at Angstadt Family Dental would like to ensure all of our regular patients and prospective patients that we have always stressed the importance of sterilization and sanitation in all three of our practices. In this time, we obviously are making an effort to go above and beyond to ensure the safety and health of patients as well as our employees. Here are some ways that we are doing that:
Minimal number of patients in the office and only one in the office at a time 

Between every patient we sanitize the entire office, including door handles and bathrooms 

We are currently only seeing patients who have been screened properly and do not have any symptoms and haven't been around anyone with possible COVID-19 symptoms 

We are keeping the office staffed only with what is necessary and extremely minimal
We hope that these efforts can allay your possible apprehensions in receiving necessary care at this time.
Call Your Dentist For Necessary Treatment
The most important part of going to the dentist right now is that we see patients who truly need to be seen for "necessary" care as per governor Tom Wolf's mandate. This mandate clearly spells out the reasons for a patient to receive care. Some of them include suture removals, broken or misplaced temporary restorations or crowns, continuous bleeding around a tooth or gums, trauma or fractured teeth leading to pain, or a list of other conditions.
The main thing is to remember that if you are experiencing pain, swelling, or infection that we CAN see you and take care of you. Call our office for a free phone screening to see if what you are experiencing can be taken care of ASAP. 
Also, keep in mind that children who are developing are also of the utmost importance. In development and growth, proper oral care is very important. Neglecting or allowing a problem to continue will only lead to more pain and discomfort as well as larger infections. We know that we must take care of our community in our offices to relax the pressure on hospitals and doctor offices.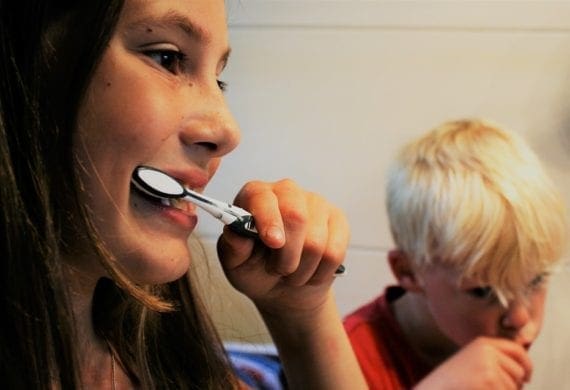 Focus On Preventative Care
One way to prevent dental issues in the future, especially if you are due for a cleaning or check-up and haven't been able to see your dentist, is to focus on home care! Brushing and flossing after each meal with a soft bristled toothbrush can limit dental caries or cavities and also help current unsolved problems from progressing quickly. Using an antiseptic mouth rinse like Listerine or crest pro-health can also be very helpful in limiting intraoral bacteria and limiting the chance of new caries or cavities. Remember, the best care is preventive care and there's no one to do that better than yourself!
One thing that we truly want our communities to understand is that we at Angstadt Family Dental are still here for you! With so many businesses being closed and not many places to turn for help right now, we are here for you simply by going to our website and calling our emergency or main line. From there you will be directed to one of our dentists and we will be able to do a phone screening ASAP. 

Hang in there! We'll get through this TOGETHER as a community and be stronger than ever on the other side. Remember to call us with any needs or questions as we'd love to help and be a positive in our community right now. We wish you all the best and happy and healthy spring and summer seasons. God bless you and your families.